ROSS FAITHFULL (ROSSCO)
Rossco has been working as a bush regenerator since 2004, after completing the Conservation and Land Management Certificate in Bush Regeneration(Natural Area Restoration) in December 2003.
He has worked under the guidance of some of the most experienced bush regenerators on the Far North Coast of NSW, in all kinds of ecosystems and vegetation types, including many Big Scrub Rainforest remnants, National Parks, and the World Heritage Iluka nature Reserve.
Rossco has been involved with numerous tree plantings, including some large scale revegetation projects to restore creekbanks and degraded areas on private and public land.
Starting in 2008 Rossco began working as a contractor for Byron Shire Council on various sites throughout the shire. He has been a prinpal contractor supervising small and large teams working on shire-wide projects, such as Caring for Country and Bush Futures, restoring degraded bushland in Urban areas. From 2009 he has also been a contractor for Gold Coast City Council and North Coast Holiday Parks and is working on numerous ongoing bush regeneration projects.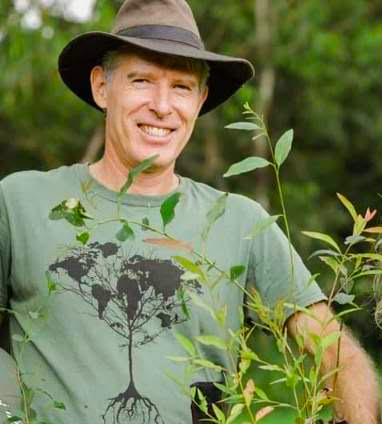 Since 2007 he has worked as an independent contractor for private landowners, local companies, communities and Landcare groups, on sites from the coast to the mountains and along creeks and rivers. He has also worked to implement Environment Management Plans for Broken Head Quarry, Agcorp Constructions,Tricend Engineering, and recently Cornell Holdings, as well as several local Community Title projects.
Rossco has used his wealth of experience and dedication to form East Coast Bush Regeneration Pty Ltd, with the aim of providing high quality service in Ecological Restoration.